Annual Report 2017
We Achieved More in 2017
A message from Edwin Palsma, National Board Chair and President and W. Matthew Chater, National President & CEO.
As you see through this year's impact report, 2017 was a year of great achievements for Big Brothers Big Sisters of Canada: we ran our most successful marketing campaign to date, established new partnerships with strong Canadian brands, and hosted a National Convention that established a new way forward for our century old organization.
Youth were at the heart of our national endeavours in 2017. Our newly formed National Youth Council joined us at our National Convention in June and took part on all panels that focused on, and lent insight into, our strategic pillars. The youth council members – made up of former mentees and mentors – brought us a fresh perspective on the impact of our programs. We also continued building our youth's leadership capacity by placing young people on Parliament Hill job-shadowing MPs for a day, where they joined Instagram in unveiling their #KindComments mural.
Keeping youth at the centre of our work, we welcomed new partners and ran new projects like the Ted Rogers Scholarship Fund. Thanks to the support of Manulife, we were able to gather and showcase new stories from mentors and youth across Canada for our September Big Brothers Big Sisters Month campaign, which in turn helped us attract new volunteers and donors. But of course there is so much more. Please visit our partners page for details on how all of our partners have helped us to achieve more in 2017!
Thank you to every young person, mentor, family member, volunteer, agency staff member, community partner, corporate sponsor, and individual donor who made it possible for Big Brothers Big Sisters to give young Canadians the confidence to achieve more
Voices from across Canada
Thanks to our partners Manulife and WestJet, we were able to collect inspiring stories from our mentors and mentees across Canada to produce one of our biggest volunteer recruitment campaigns last September.
New Partnerships
We welcomed The Ted Rogers Scholarship Fund as a new partner in 2017. Their scholarship offered some of our teen mentors the opportunity to achieve a higher education.
Leaders of Tomorrow
Youth in Office 2017 brought youth from Big Brothers Big Sisters across Canada to Ottawa for a day on Parliament Hill. The youth also took part in the launch of a #kindcomments mural with Instagram.
A Strong Future Together
Our 2017 National Convention focused on strategic development and youth involvement. Delegates from Big Brothers Big Sisters youth serving organizations across Canada came together to learn, plan, and develop their skills, made affordable thanks to sponsorships from BMO and WestJet.
OUR 2017 FINANCIALS AT A GLANCE
Where it Came From
(2017 Revenues)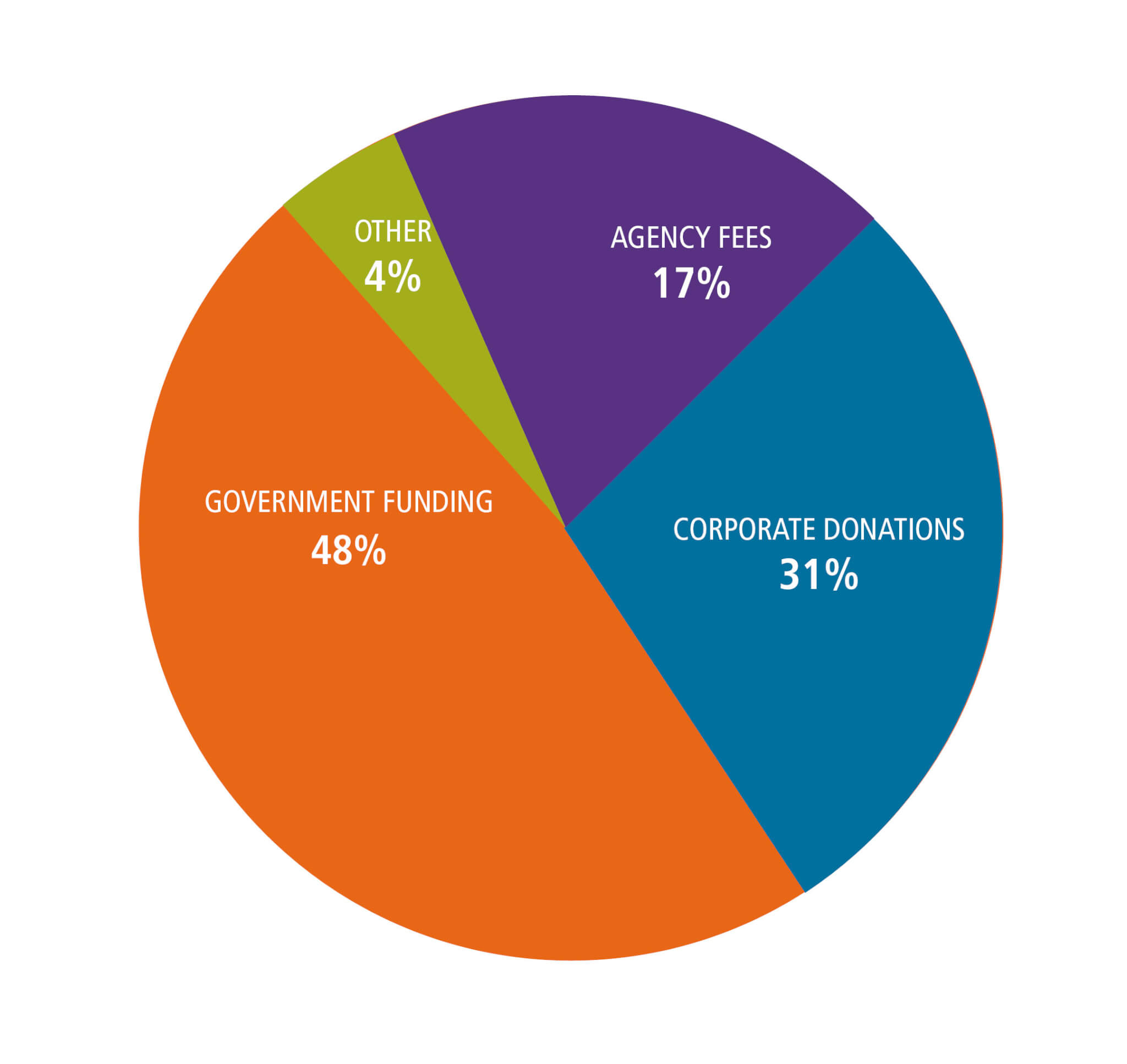 Where it Went!
(2017 Expenses)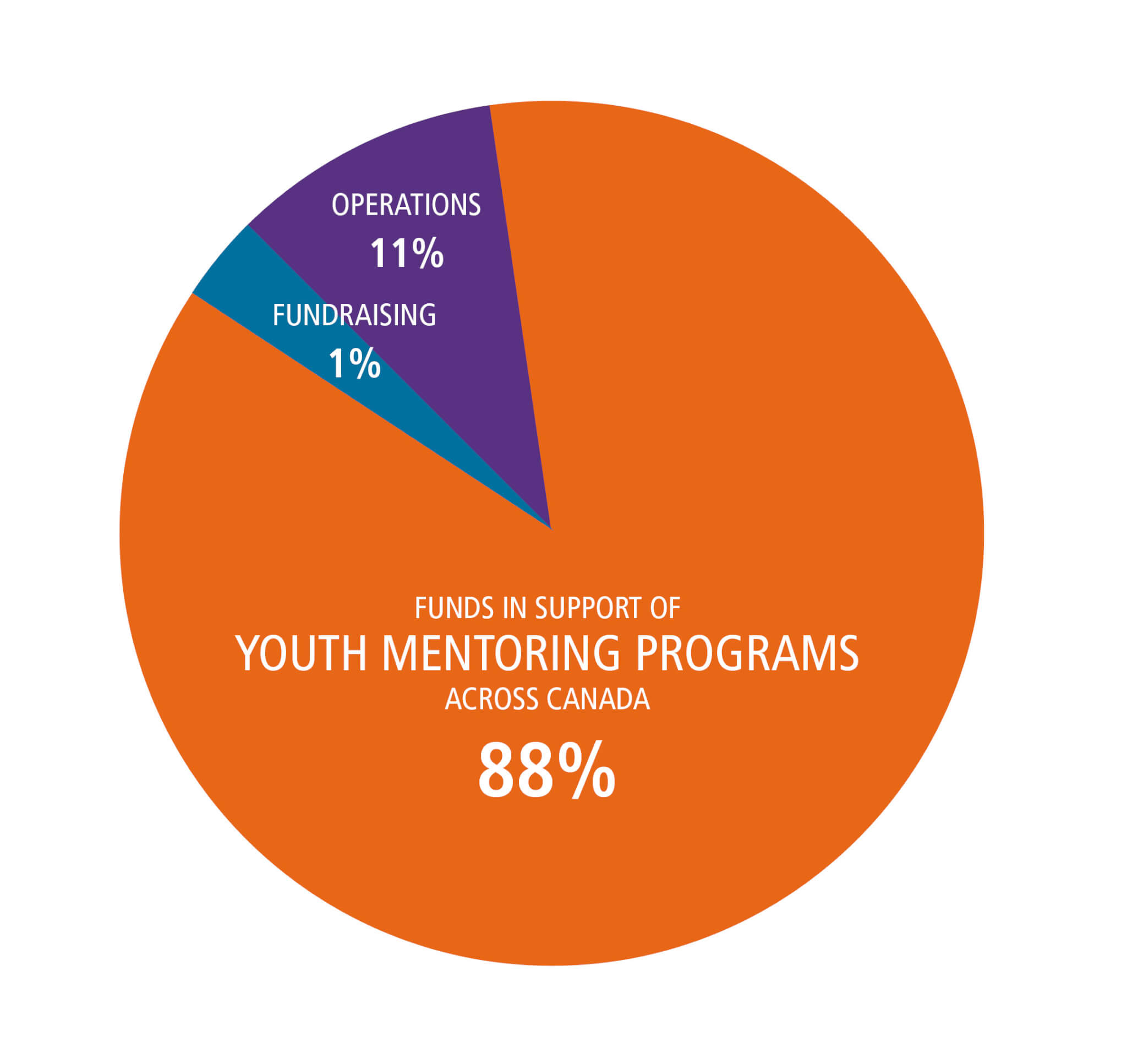 PARTNERS WHO HELPED US ACHIEVE MORE IN 2017
President's Circle
($100,000 – $249,999)
CIBC
Cadillac Fairview
Invesco
Keg
Leader's Circle
($50,000-$99,999)
Heritage Canada
Morguard
Nerium International
Nordstrom
Nielsen
Osler Hoskin & Harcourt
Champion's Circle
($25,000-$49,999)
Blueprint Business Architecture
Grant Thornton
Intelligent Risk Management
NEI Investments
Taylor Newberry Consulting
Vintage Hotels
Please visit us online at bigbrothersbigsisters.ca/national-partners for more details about the contributions of our partners.
We couldn't do it without you. On behalf of our children, their parents, foster-parents and siblings, our front-line service delivery staff, and the schools and communities who we serve in every corner of our country:
2017 Board of Directors
Edwin Palsma, Chair
Mona Mitchell, Vice Chair
Paul Byron, Treasurer
Steve Kent, Secretary
Rhea Bowen, Director-at-Large
Stephanie Leheta, Director-at-Large
Kerlande Mibel, Director-at-Large
Corey Olynik, Director-at-Large
Serena Palmer, Director-at-Large
Shalomi Abraham, Director-at-Large
Susan Banting, Director-at-Large
Lesley Brown, Director-at-Large
Michael Contento, Director-at-Large
Jordan Moore, Director-at-Large
Gary Smith, Director-at-Large
Clint Weiland, Director-at-Large