Annual Report 2018
We Achieved More in 2018
With the completion of our network's strategic plan on the horizon, 2018 was a pivotal year for Big Brothers Big Sisters in Canada. We travelled across the country to engage Member Agencies, deepened our commitment to youth and to sustaining partners, and kickstarted the process to define the future of youth mentoring – so that every child who needs a mentor, has a mentor.
INCREASING OUR IMPACT
Young people and their families come to Big Brothers Big Sisters to benefit from high-quality, evidence-based mentoring programs. We strive to ensure that Member Agencies and volunteer mentors have the supports needed to deliver on that promise – from shared infrastructure to quality assurance to access to the latest research on mentoring. This year we aligned our standards of practice with Imagine Canada and relaunched the Research & Trends Committee to better mobilize knowledge within and outside of our network.
Enabling impact is our commitment to Equity, Diversity, and Inclusion (EDI). Big Brothers Big Sisters operates on the traditional and enduring homelands of Indigenous peoples on Turtle Island, including unceded territories. We have a responsibility to honour the traditions of those who cared for this land, to respect the spirit of the treaties that were made, and to acknowledge the systemic barriers that are a reality for the diverse youth with whom we work. In 2018 we continued to explore ways to better serve Indigenous and marginalized youth through The Circle pilot project and co-hosted Road Home conversations to shine a spotlight on issues facing marginalized young men.
Indigenous Mentors Stepping Up
AMPLIFYING OUR VOICE
Our high-impact mentoring programs depend on people stepping up to volunteer and donate, and the Big Brothers Big Sisters national marketing campaign provides a unifying voice to make that happen. This year, agencies hosted or participated in over 170 public events and reached 1.6 million Canadians online. Thanks to our national campaign partners, we shared our message through donated ad placements, inspiring videos, and mall activities.
Collaboration is critical to raising awareness of the benefits of mentoring. Thanks to the generosity of BMO Financial Group, Big Brothers Big Sisters laid the groundwork for the Canadian Mentoring Partnership. This coalition of organizations will help promote excellence in mentoring and boost the profile of mentoring within Canada.
STRENGTHENING OUR LEADERSHIP
Today's changing landscape requires our staff to have leading skills in marketing, fund development, critical mentoring, and volunteer management. This year, thanks to BMO, Morneau Shepell and other sponsors, we reintroduced Regional Conventions to facilitate skills development and knowledge-sharing within the network. Through these gatherings, 385 delegates – twice as many as can come to National Convention – had the chance to learn, share, and contribute.
Skills for Effective Mentoring
ENHANCING OUR SUSTAINABILITY
Our work would not be possible without the generosity of donors and corporate partners. We are deeply grateful to Boston Pizza Foundation Future Prospects for committing to the expansion of our National Youth Mentoring Advisory Council in 2019 and the continued implementation of the Youth Engagement Strategy.
With a restructured fund development team, we laid the groundwork for several exciting partnerships that were announced in 2019. Thank you to ESDC, RBC, and Scotiabank for your invested belief in youth potential.
Modernizing Our Business Practices
BEYOND VISION 2020
We entered 2019 with a renewed commitment to engage Member Agencies and youth, while developing a new strategic plan for the next five years. We are profoundly grateful to the tens of thousands of Canadians – mentees, mentors, staff, volunteers, and partners – who help us create life-changing experiences for young people through mentoring.
With significant changes on the horizon, we are excited for the future of Big Brothers Big Sisters in Canada.
– Steve Kent, National Board Chair and President and W. Matthew Chater, National President & CEO
OUR 2018 FINANCIALS AT A GLANCE
Where it Came From
(2018 Revenues)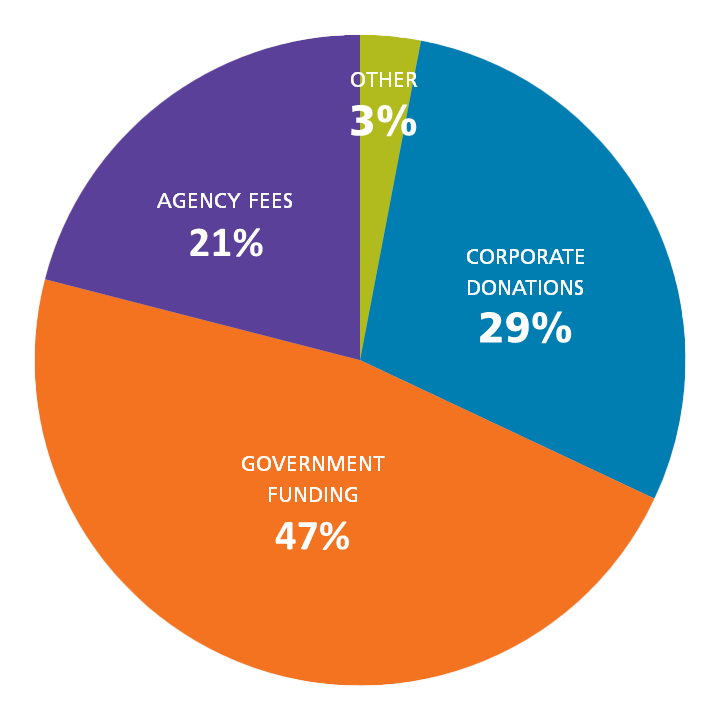 Where it Went!
(2018 Expenses)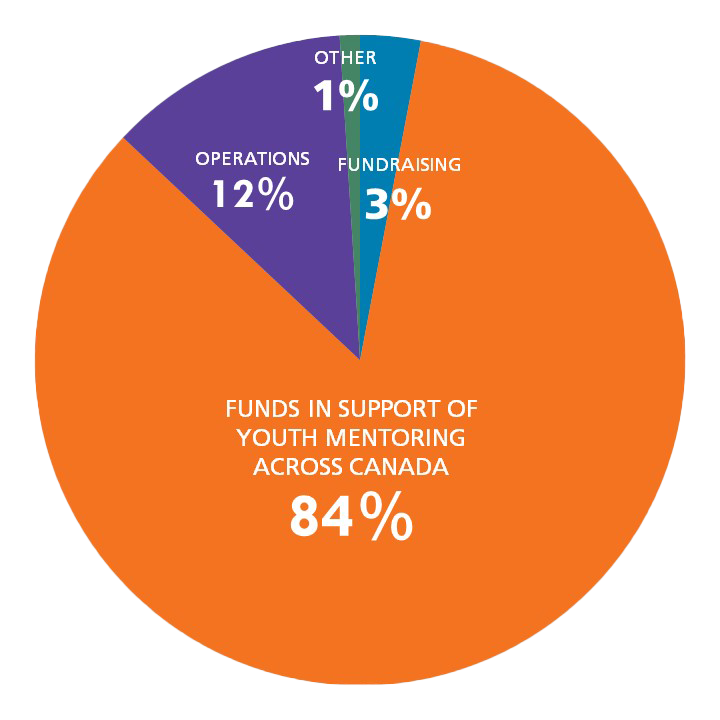 PARTNERS WHO HELPED US ACHIEVE MORE IN 2018
President's Circle
($100,000 – $249,999)
CIBC
Cadillac Fairview
The Keg Spirit Foundation
Rogers
Leader's Circle
($50,000-$99,999)
Canadian Heritage
Morguard
Nielsen
Osler, Hoskins & Harcourt LLP
Champion's Circle
($25,000-$49,999)
Brainworks Razor
Blueprint Business Architecture
COGECO
Neora
Shaw Communications
Taylor Newberry Consulting
Temple Scott Associates
Please visit us online at bigbrothersbigsisters.ca/national-partners for more details about the contributions of our partners.
We couldn't do it without you. On behalf of our children, their parents, foster-parents and siblings, our front-line service delivery staff, and the schools and communities who we serve in every corner of our country:
2018 Board of Directors
Steve Kent, Chair
Jordan Moore, Vice Chair
Paul Byron, Treasurer
Shalomi Abraham, Secretary
Lesley Brown, Director-at-Large
Michael Contento, Director-at-Large
Rizwan Kanji, Director-at-Large
Stephanie Leheta, Director-at-Large
Kerlande Mibel, Director-at-Large
Corey Olynik, Director-at-Large
Edwin Palsma, Director-at-Large
Gary Smith, Director-at-Large
James Temple, Director-at-Large
Clint Weiland, Director-at-Large