Annual Report 2021
"Community Strong" for the Future
Thank you to the Big Brothers Big Sisters community of supporters for spending your time and/or dollars to support our youth mentoring initiatives.
More than ever, Canada needs mentors. This is evident on the toll the pandemic has taken on kids and their mental health. All of us need to do more. The ultimate opportunity for us is being able to serve more youth by building more mentoring capacity. The work that we've done over 2021 and the past two years, has better positioned the entire federation to be able to focus on this unique aspect of our work for social profit.
Special thanks to National and Local board members for their continued commitment to responding to the need for mentors across the country. And to the national and agency staff for working hard to fulfill the impactful collective work of Big Brothers Big Sisters. Finally, I take this opportunity thank members of The National Youth Mentorship Advisory Council for their creative engagement with and support of the mentoring cause across Canada.
We are truly Bigger Together!
– Paul Byron, National Board Chair
Changing Ourselves for Canada's Youth
If I had to sum up the year, it would be with the capital letter "P" –  and I think many of us may go to that word "pandemic" that we've all been living through –  but I'm speaking about the building blocks; who we are collectively as a federation. We're passionate, we're purposeful, we're aligned with incredible people as well as partnerships.
When you pause and reflect that we've been changing lives for nearly 110 years, much of our evolution has taken place over the past few years. Just before the pandemic, we launched our new brand and began our new strategic plan that will elevate our impact as a social movement. We will continue to ignite the power and potential of children and youth with greater clarity and purpose.
 Even though our rural, urban and remote communities may be different, mentorship is common and children are always at the center – the heartbeat of our shared mission and mandate – and children are our past, present, and our future.
On the good work we need to accomplish now and in the future, we are striving to offset the challenges unleashed by the pandemic. Financially we finished the year with a modest surplus. Our goal moving forward is to ensure that funding grows so we can uplift more children's lives through one mentoring relationship at a time.
– W. Matthew Chater, National President & CEO
Scotiabank's Thriving Communities Project
Impact Report on the third year of work on program innovation that is being accomplished with the funding support from Scotiabank
Strengthening Rural, Remote & Indigenous Community Services Project
Strengthening Our Knowing to Strengthen Engagement – through the support of CIBC
In 2021, young people across Canada faced ongoing negative effects of the Covid-19 pandemic. More than ever, they needed the support from Big Brother Big Sister agency mentoring programs. Agencies across Canada experienced a decrease in the number of children served due to factors beyond their control. Communities facing lockdowns, inaccessibility to schools, and inability to operate in group settings all contributed to reduced service capacity. Cancellation of countless fundraising events also contributed to reduced revenue to fund staff and operate programs.
| | | | | |
| --- | --- | --- | --- | --- |
| | 2021 | 2020 | 2019 | 2018 |
| Total Children Served | 23977 | 27444 | 38393 | 41478 |
Children Served by Program
| | | | | |
| --- | --- | --- | --- | --- |
| | 2021 | 2020 | 2019 | 2018 |
| Big Brothers (1:1) | 3306 | 3159 | 3471 | 3629 |
| Big Sisters (1:1) | 4128 | 3896 | 4173 | 4389 |
| In-School Mentoring | 3060 | 5107 | 7236 | 7713 |
| Group Programs | 12315 | 12538 | 17719 | 23343 |
| Go Girls! | 3520 | 4235 | 7885 | 8115 |
| Game On | 1410 | 1619 | 3624 | 3549 |
Since March 2020, local BBBS agencies have worked tirelessly to continue to provide services using new and innovative ways to overcome those physical barriers. In the face of adversity, BBBS agencies evolved their program practices. They focused on meeting the new needs of young people where they are – online and through telephone check-ins. The pandemic reinforced the value of how mentoring enables the life-changing, supportive relationships that ignite the power and potential of young people.
BBBS Canada partnered with researchers from York University (Drs. Craig and Pepler) and the University of Victoria (Dr. Ames) on a collaborative research project in 2020 – 'Building Bigger Connections '. The aim of this research was to help BBBS understand how mentees were functioning in terms of their mental health and relationships during COVID-19 in comparison to non-BBBS youth.
In 2021, the findings reinforced our intervention with:
BBBS youth who had regular contact with their mentors reported feeling more supported and less isolated, worried or anxious than non-BBBS youth.
Non-BBBS youth were more likely to report significant symptoms of depression and anxiety.
BBBS mentees reported more inequities compared to non-BBBS youth, inequalities like less household income and racialization, however, despite these disadvantages, BBBS Mentees reported better mental health.*
These results suggest that being a BBBS mentee, receiving 1:1 youth mentoring, provides preventative and protective factors.
*Source: Craig SG, Ames ME, Urusov A, & Baudin, C for Big Brothers Big Sisters Canada. (April, 2021). Building Bigger Connections: Wave 1 Results
PREPARING FOR RECOVERY AND GROWTH
2021 continued to be financially challenging for us, the charitable sector, and for those who fund our work. BBBSC continued to monitor outcomes and implement measures to ensure longevity in our cashflow and operations, with a strategic approach to prepare us for recovery and growth.
As a result of the government wage subsidy, and the continuing need to make efficiencies in our operating expenses, Big Brothers Big Sisters of Canada ended fiscal 2021 with a small surplus.
We are pleased to note that in 2021, BBBSC provided $3,586,681 in flow-through funding to our member agencies and another $2,035,901 in support of our member agencies.
– Rizwan Kanji, National Board Treasurer
OUR 2021 FINANCIALS AT A GLANCE
Sources of Funds
2021 Revenue: $8,829,195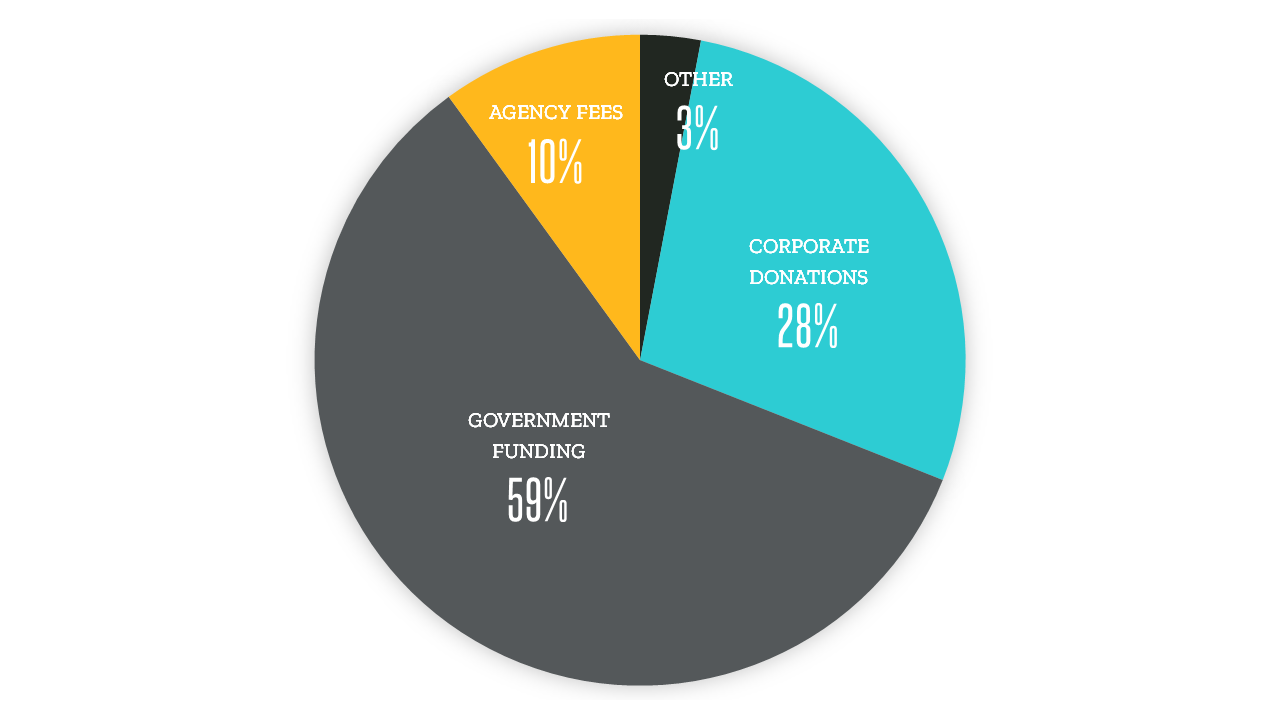 Use of Resources
2021 Expenses: $8,559,972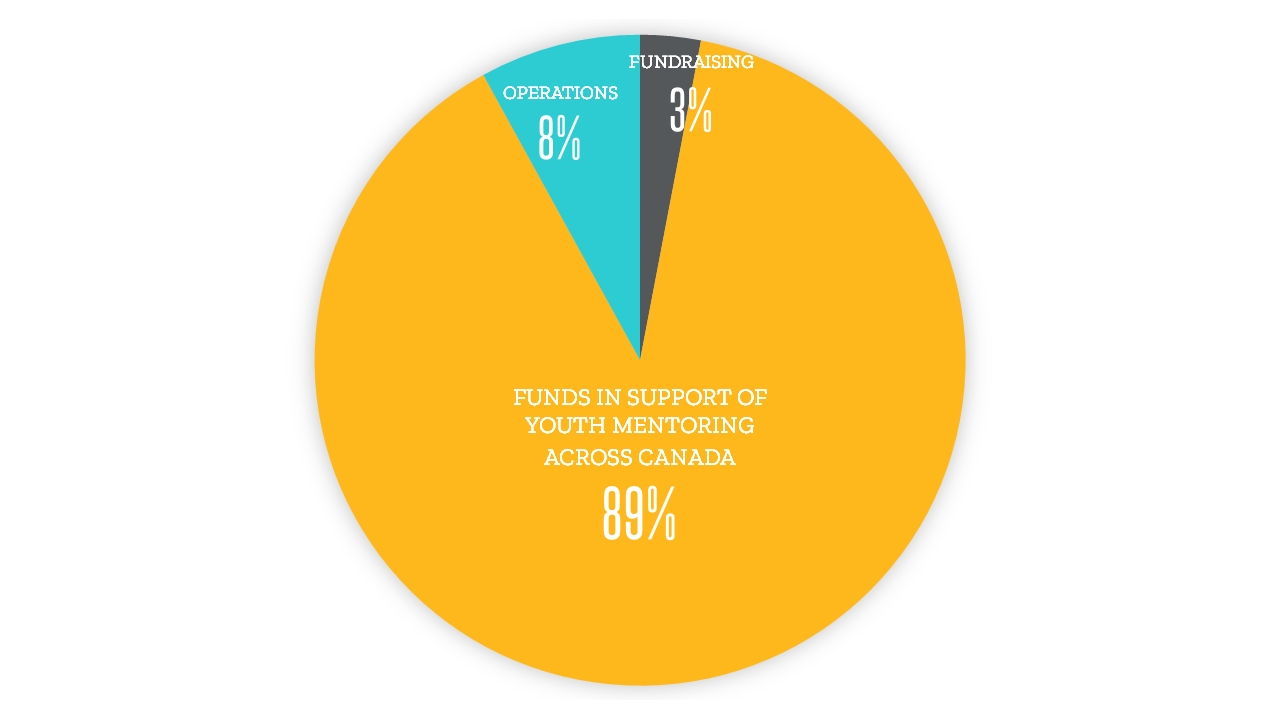 PARTNERS WHO HELPED US ACHIEVE MORE IN 2021
Our mission is made possible through the generous support of our corporate government, community and individual donors. Whether their funding is supporting program innovation, youth employment-readiness, or allowing us to reach rural, remote or indigenous communities. Their unwavering support during the pandemic ensured that the impact of our work could continue to be brought to life. Thank you on behalf of the children, their families, our agencies and staff and the schools and communities who we serve in every corner of our country. We couldn't do it without you.
President's Circle
($100,000 – $249,999)
BMO Financial Group
Cadillac Fairview
Coke Canada Bottling
Coca-Cola Ltd.
Heritage Canada
Humanity
The Keg Spirit Foundation
TD Bank Group
Leader's Circle
($50,000-$99,999)
Aritzia
Boston Pizza Foundation Future Prospects
Bowl Canada
Canada Post Community Foundation
CIBC Foundation
Facebook
Osler, Hoskins & Harcourt LLP
Rogers
Champion's Circle
($25,000-$49,999)
The Bateman Foundation
Intact Public Entities
Merrell
Nordstrom Rack
StorageMart
2021 Board of Directors
Shalomi Abraham, Chair
Paul Byron, Vice Chair
Rizwan Kanji, Treasurer
Denise Baker, Secretary
Michael Contento, Director-at-Large
Alison Evans, Director-at-Large
Liz Falco, Director-at-Large
Angela Hantoumakos, Director-at-Large
Matt McGowan, Director-at-Large
Susan Tarves, Director-at-Large
James Temple, Director-at-Large