Annual Report 2022
Big Support to the Network
Here are some of the many ways we strengthened the Network of 97 Big Brothers Big Sisters agencies in 2022
56
Education and training virtual events for agency staff
29
Scholarships granted to youth in communities through the Ted Rogers Scholarships, the O'Keefe Art Scholarship and the Hays Canada Dream Big Project
500
Beds distributed to children in communities through our partnership with Ashley Canada's Hope to Dream program
3,012
IT support desk tickets managed centrally for the Network
360
Marketing Campaign Assets for multiple channels. Piloting of new programs including MEGABike national fundraising event, Big Steps to Success and BIG Fan
26,435
Children Served in Mentoring Program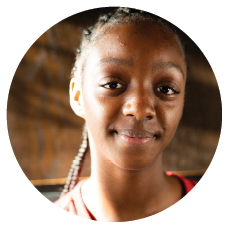 Big Reach across the Network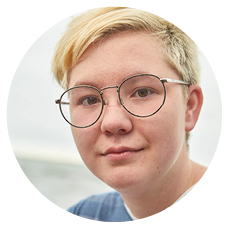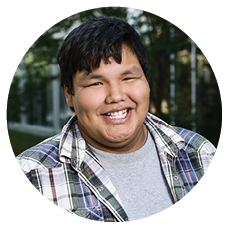 Through Covid-19 we have learned that our mentoring programs are even more essential than ever before. While the number of children within mentoring relationships dipped due to the pandemic, we are proud of the quality of programming that our agencies continued to deliver to children across the country. BBBS agencies continue to offer programs that reach young people across Canada to help enable them to reach their full potential. Volunteer recruitment continues to be a priority as local agencies aim to match more young people within these life changing mentoring relationships. During 2022, more than 51% of children served receive the benefit of 1:1 mentoring relationship, while the other 49% were engaged in group programming, events, or waitlist activities.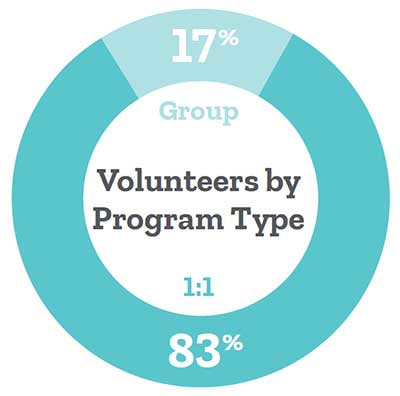 What we did for the Network
Scotiabank Thriving Communities Project continues to Ignite our Theory of Change
Since the launch of our National Theory of Change, an investment made by Scotiabank has fueled our ability to bring our theory to life with measurable outcomes.
Through Scotiabank, we have built our National Need Registry which helps us define and record the adversities faced by our families and Mentees. In year 2 of the project, we designed our Developmental Relationship volunteer training and case tools to measure the strength of BBBS mentoring relationships in partnership with the Search Institute.
In 2022, we designed an anonymous program evaluation survey to measure which skills have developed and grown because of the mentoring relationship. The 2022 pilot findings suggest that our new BIG 3 Growth Surveys provide a strong measure of our National outcomes and that they are sensitive enough to capture statistical improvements over time. Furthermore, findings from interviews and focus groups with Caregivers and Mentees who completed the surveys suggest that the surveys are easy to understand and straightforward to complete.
"These findings from our 2022 pilot give us great confidence in our newest Theory of Change measurement tool," says Megan Vella, National Senior Director, Development and Impact. "The next step will be to have this tool available for use across our network of agencies late in 2023."
BIG Potential Ignited through RBC Future Launch & Mentor Canada
RBC's BIG Possibilities Mentoring reaching across 20 Big Brothers Big Sisters sites aims to ignite post-secondary curiosity and employment readiness skills within BBBS youth.
By the end of 2022, together we reached more than 2000 youth. Participants were inspired to consider post-secondary or career opportunities.
In addition to program delivery, BBBS sites gathered virtually online for a series of unique, interactive Skill-Building events hosted by RBC Advisors, Future Launch Champions and Mentor Canada. These events, designed for BBBS youth aged 13 and up, and their Mentors, covered topics on Financial Literacy, Pathways After High School and Summer Job Skills. Thanks to RBC's continued support, this program will continue in 2023.
BIG Steps to Success
Mentoring for Children in Care
2022 was the second year of our five-year pilot program, BIG Steps to Success. This program reaches children aged 7-14 who are in care or who have experienced the child welfare system. At the end of Year 2, across all sites, 244 children in care have been reached. Thanks to our National partnership with the Children's Aid Foundation of Canada, these matches receive deeper mentoring support. This ensures that their unique needs are being met and that the adversities they face do not jeopardize their potential.
Big Steps to Success includes a virtual, National Community of Practice Table where welfare providers and BBBS mentoring providers come together bi-monthly and discuss ways to better navigate the child welfare system so that mentoring can reach the children who need it the most. Volunteer recruitment, training and engagement is critical to this program's success.
Igniting Learning Potential in Rural, Remote and Indigenous Reaching Communities
Thanks to the continued support of the CIBC Foundation, BBBSC launched a new and interactive resource for school-focused Mentors, who are matched with rural, remote and Indigenous Mentees. Pandemic related learning loss disproportionately had a negative effect on rural, remote and Indigenous communities across Canada. With CIBC's investment, BBBSC created mentoring resources to ensure our Mentors could support children as they return to their in-person learning journey.
BIG Scholars Series
5 Days with 5 Diverse Thought-Leaders and Exponential BIG Ideas
The BBBSC National team designed a new and fresh approach to our traditional National Convention for 2022 while keeping everyone safe. The BIG Scholars Series showcased relevant thought-leaders and experts in our sector.
More than 500 BBBS Network members joined our BIG Scholar sessions virtually on a variety of topics relevant to our work including:
Filling the Relationship Gap for Kids
Leading with Indigenous Teachings
Elevating our Brand Power
Technology & Social Services
Growth Minded Organization
Our BIG Scholars series was a great success, aligning our thinking, amplifying our shared vision and empowering our approach.
OUR 2022 FINANCIAL STATEMENTS
OUR 2022 NATIONAL PARTNERS
We are deeply grateful to our donors and partners for making our work possible. We recognize our Circle of Support donors who contributed $10,000 or more in 2022. We sincerely appreciate the local contributions that our partners provide to our local agencies.
President's Circle
($100,000 – $249,999)
BMO
Cadillac Fairview
Coke Canada Bottling
Coca-Cola Ltd.
The Keg Spirit Foundation
TD Bank Group
The Ted Rogers Scholarship Fund
Leader's Circle
($50,000-$99,999)
Bowl Canada
Canada Post Community Foundation
CIBC Foundation
Facebook
Nordstrom Rack
Osler, Hoskins & Harcourt LLP
Champion's Circle
($25,000-$49,999)
The Bateman Foundation
Intact Public Entities
Merrell
StorageMart
2022 Board of Directors
Jeff Benjamin, Chair
Angela Hantoumakos, Vice-Chair
Rizwan Kanji, Treasurer
Liz Falco, Secretary
Shalomi Abraham, Past-Chair
Paul Byron, Director at Large
Monica Chohan, Director at Large
Alison Evans, Director at Large
Matt McGowan, Director at Large
Jamileh Naso, Director at Large
Karine Pomilia Gauthier, Director at Large
Susan Tarves, Director at Large