Connecting with a community agency could be the difference between youth achieving their full potential versus navigating a lifetime of adversity, alone. Big Brothers Big Sisters across Canada serves as a lifeline, pairing children and youth with trained, caring adult volunteers, through mentorship.
Today, Marcus is a podcaster and an Under Armour employee. He joined the Big Brothers Big Sisters of Toronto (BBBST) program in his early teens, with the encouragement of his mother. A single parent, she understood the value of a healthy developmental relationship, a role model to guide her son.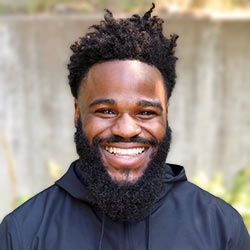 "From my own experience, I can say that the program saved my life. Especially speaking as a young Black individual – if I hadn't joined BBBST and if I hadn't had a Big Brother who helped me find the passion and purpose that I have today, I don't know where I would be."
"I believe that there will always be a place for mentors in the world. In today's times, coming out of COVID and the quite charged social climate, this is the perfect outlet. In terms of steering young individuals in the right direction and helping them continue that way, there will always be a need for Big Brothers Big Sisters and this type of mentorship support," says Marcus.
Connect at bigbrothersbigsisters.ca to ignite the potential in children like Marcus.